Alumni
2008 Town & Gown Award
John Maguire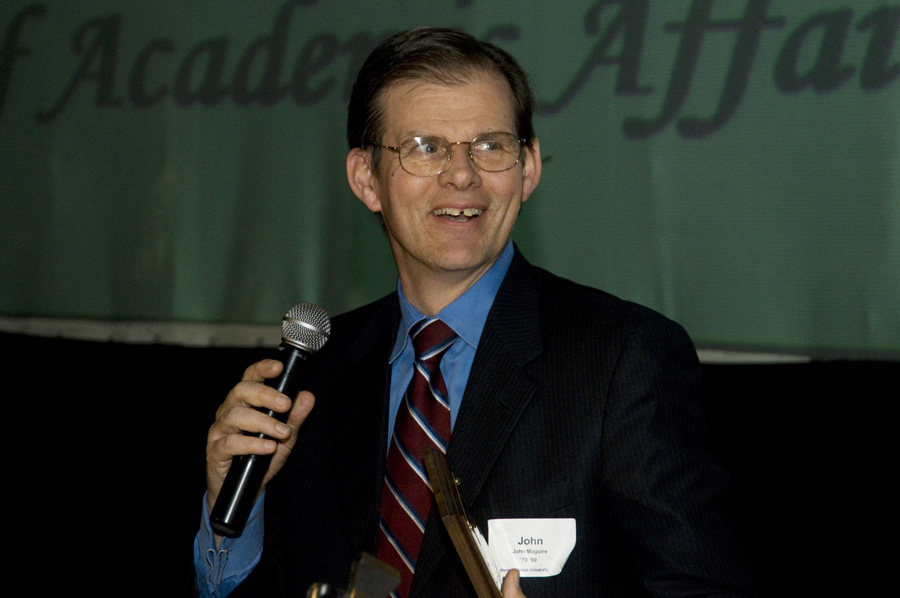 To recognize his contributions to Western Illinois University and the Macomb community, John Maguire has been named the recipient of the 2008 Town & Gown Award from the WIU Alumni Association.

The Town & Gown Award, presented to an individual who has provided exceptional service to WIU and the community, was announced at the April 25 "Celebrating Town & Gown" event hosted by the Alumni Association.

Maguire, who is the director of public relations and fund development at McDonough District Hospital in Macomb, retired as WIU's assistant vice president for University Relations in November 2007. He joined Western as assistant director of news services in 1977, and was named director of news services in 1982. Five years later Maguire was appointed director of University Relations and was named assistant vice president for University Relations in 1994. At WIU, Maguire directed Western's news, web development, visual production and publication efforts. Maguire was an associate member of the graduate faculty in the educational and interdisciplinary studies department, teaching in the college student personnel program.

Maguire has also served the Macomb community in numerous capacities over the years. He served as a City of Macomb alderman for more than 25 years; and he was a member of the Macomb Area Convention and Visitors Bureau (MACVB) Board for 17 years, including five terms as board chair.

In his roles within the community, Maguire actively promoted and lobbied Amtrak's Macomb route; promoted city and community events through his weekly radio show; co-chaired the 1999 Heritage Days committee; supported the annual Balloon Rally; worked with city officials during the eight years of St. Louis Rams Camp at WIU; and served as the liaison between WIU and the community. Maguire is also a long-serving member of the Macomb Area Industrial Development Corporation, in connection with his position on the Macomb/McDonough County Enterprise Zone Management Board, on which he continues to serve.

"John's substantial contributions to both Western and the community make the Town & Gown Award an appropriate tribute to his career at WIU -- and now at MDH -- and for his outstanding work in the community," said Amy Spelman, director of Alumni Relations.