Alumni
2012 Honorary Alumni Award
Melisa (Lisa) Ward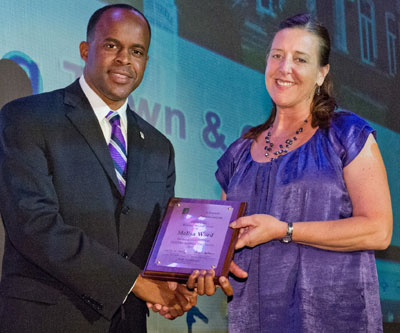 Western Illinois University presented the 2012 Western Illinois University Honorary Alumni Award to Melisa (Lisa) Ward, owner of the Macomb restaurant and catering service Magnolias, during the annual Town & Gown celebration Sept. 13, hosted by the WIU Alumni Association.
The Honorary Alumni Award is presented to an individual who is not a WIU graduate but who has provided exceptional service to the WIU community.
Ward attended the University of Alabama and moved to Macomb in 1995. One year later, she opened Magnolias Catering, and in 2002, opened Magnolias restaurant. Alumni Relations Director Amy Spelman noted that because of Ward's background, "she champions a hands-on approach to learning in the hospitality environment." Each year, she hosts a WIU intern at her restaurant and catering businesses, and throughout the years, she has hired and trained hundreds of students to work in the food and beverage business.
Ward is an active member of the Macomb and University communities and has served on several committees over the years including WIU's Department of Dietetics, Fashion Merchandising and Hospitality (DFMH) Advisory Board and the WIU Athletics Purple and Gold Auction committee.
"Lisa has been extremely generous both of her time and her financial resources to an endless list of local organizations and at Western Illinois University. She has made significant gift-in-kind contributions directly to student groups assisting them with special events and post-season awards banquets and dinners for many athletics teams," Spelman added.
Her gifts to Western support the Alumni Association, the Performing Arts Society, WIUM-FM Radio, Athletics and the annual Purple and Gold Benefit Auction, the College of Education and Human Services and DFMH. Ward has provided a scholarship in DFMH and assisted in the purchase of new ovens. Along with her husband, Roger, and his family, she established the George M. Ward Scholarship for Environmentally Concerned Students in 2007 in honor of the late WIU associate registrar.
Locally, Ward has contributed to, hosted events and helped raise funds for Linda's Fund, which supports women diagnosed with breast cancer. She was an original member of Volunteers Interested in Benefiting Everyone (VIBE), hosting many of their events at her restaurant.
"Lisa is one of those individuals who has 'adopted' this community and this University as her own," said Spelman. "It is a pleasure and an honor to recognize such a dear friend for her support of, and dedication to, Western."
This is the 17th year for the WIU Honorary Alumni Award presentation. Previous recipients were Al Goldfarb (2011); Gil Belles (2010); Marion Blackinton (2010); Bob Anstine (2009); Jack Stites (2008); Bill Brattain (2007), Marilyn Johnson (2005); Donald Dexter (2004); Mark Martin (2003); Mel and Judy Kerr (2002); Charlene Callison (2001); Ed Holzwarth (2000); Donald S. Spencer (1999); Laura Kent Donahue (1998); Cathy Early (1997); Dick Miller (1995) and Dennis Iversen (1994).