Alumni
2012 Town & Gown Award
Tom Carper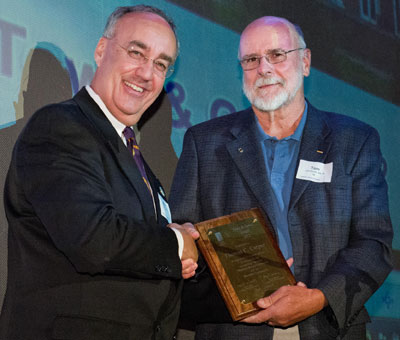 To recognize his contributions to Western Illinois University and the Macomb community, former Macomb Mayor Tom Carper has been named the recipient of the 2012 Town & Gown Award from the WIU Alumni Association.
The Town & Gown Award, presented to an individual who has provided exceptional service to WIU and the community, was announced at the Sept. 13 Town & Gown celebration.
Carper, a 1982 Board of Trustees graduate, a 2012 WIU Athletics Hall of Fame inductee and a 2009 WIU Alumni Achievement Award recipient, was appointed by President George W. Bush to serve as a director of the Amtrak Board of Directors in March 2008 and was elected chair of the board in January 2009. He was named to his current position as region manager for economic development for the Illinois Department of Commerce and Economic Opportunity in December 2003. Carper served as the mayor of Macomb from April 1991 to April 2003. He has also owned several businesses in Macomb from 1971 to 1991.
Carper served in Vietnam as a member of the U.S. Army from 1967 to 70, returning to Macomb in 1970.
He has served as a member of the Illinois Municipal League Board of Directors from 1993 to 2003 and chaired the Non Home Rule Committee from 1994 to 2003. He also served on the Amtrak Mayors' Advisory Council, the Illinois Humanities Council and the Illinois Arts Alliance Board of Directors. In the community, Carper has served as Heritage Days chair, was named Special Olympics Volunteer of the Year and received the United Way Leighty Award. He participated in football (1964-65) and track and field (1965) and has served as a WIU track and field official since 1975. Carper is also a recipient of the Performing Arts Society Distinguished Service Award. He and his wife Gayle, also a WIU graduate, have been extremely supportive of their alma mater over the years, both financially and with their time.
"Tom has been an advocate for the University and the western Illinois region for many, many years, and his support for Western has been unwavering. We are so pleased to honor Tom with the 2012 Town & Gown Award," said Amy Spelman, director of Alumni Relations.
Previous Town & Gown award recipients include:  Mick Wisslead (2011), Lin Stults (2010), Jerry Cremer (2009), John Maguire (2008) and Charles Gilbert (2007).