Alumni
2014 Town & Gown Award
Todd Lester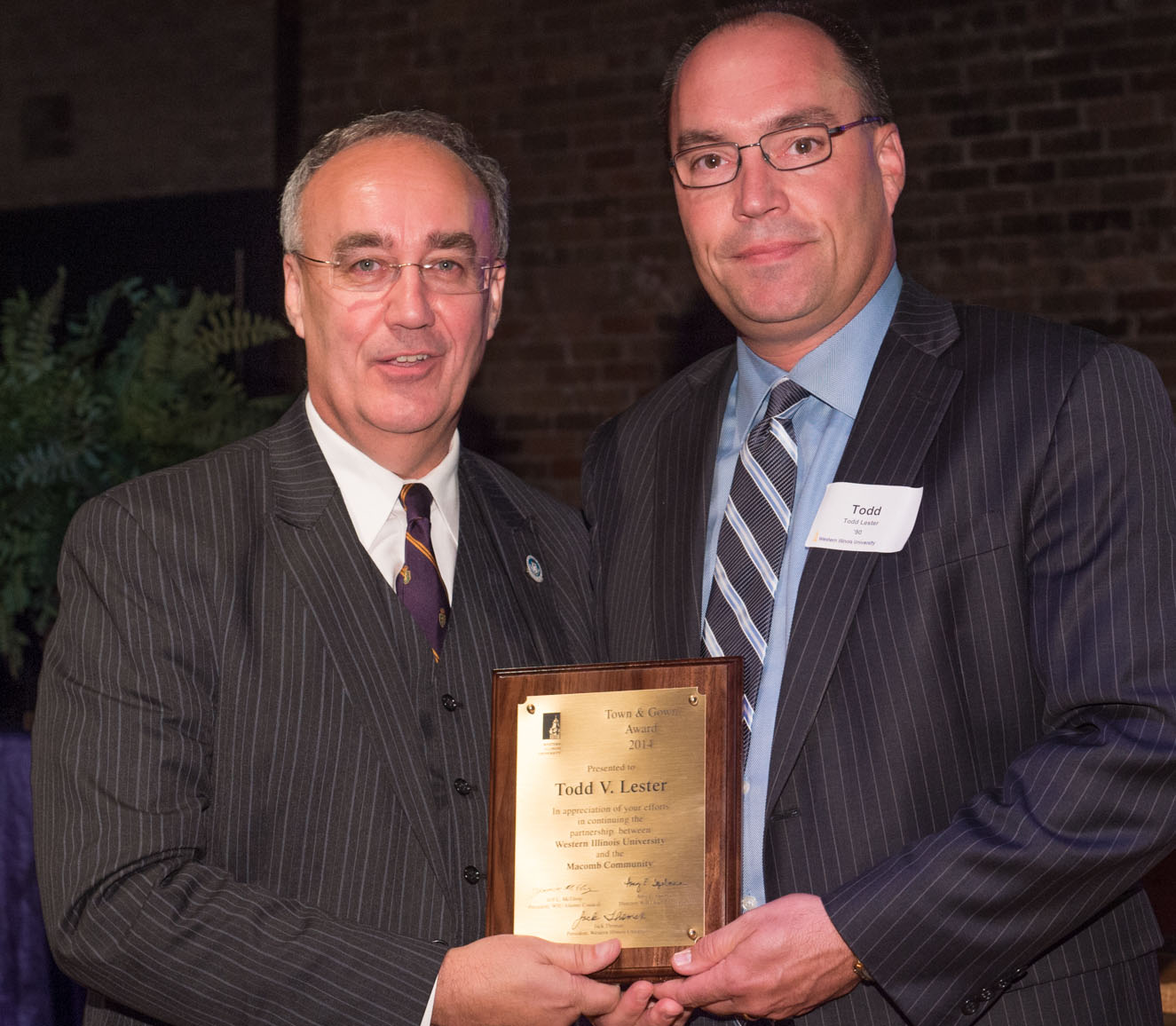 To recognize his contributions to Western Illinois University and the Macomb community, Todd Lester, president of Citizen's Bank, has been named the recipient of the 2014 Town & Gown Award from the WIU Alumni Association.

The Town & Gown Award, presented to an individual who has provided exceptional service to WIU and the community, was announced at the Sept. 25 Town & Gown Celebration.

Lester, a 1990 WIU finance graduate, is a member of the WIU Foundation Board of Directors, serving one term as president. He has made fostering the relationship between his alma mater and the city of Macomb a priority, and works tirelessly to bring the purple and gold into the community, including the University's "Think Purple" campaign. Citizen's was one of the first businesses to implement the WIU-sponsored campaign and the bank continues its participation today. He was also one of the first to become a Rocky on Parade sponsor, a public art project coordinated by Western Illinois University. Lester also works closely with the University to hire WIU students as interns at the bank.

He is an avid supporter of the WIU Alumni Association, having attended numerous alumni events, as well as several other University-sponsored activities over the years, including special events and announcements taking place on both the Macomb and Quad Cities campuses. He and his wife, Ann (Ward) Lester, also a WIU graduate, have been extremely supportive of their alma mater over the years by giving both financially and of their time.

Lester is an active member of the Leatherneck Club, the primary fundraising program of WIU Athletics. He has served on the club's advisory board, as well as on the Purple and Gold Auction Committee and is a basketball and football season ticket holder.

He is also active in the Macomb community as a member of the Macomb Area Economic Development Corporation, serving as the president, and as a member of the Macomb Rotary and the Macomb Area Chamber of Commerce board, among others. He is actively involved in Macomb schools, attending events, and supporting the MHS Band Boosters and MHS Bomber Booster Club.

"Todd is a great example of an individual that gives so much to his community and his University," said Amy Spelman, director of Alumni Relations. "He is not just someone who is active with WIU and within the community, he is someone who works every day to bring the two communities together. That is what the Town & Gown Award is all about."

Previous recipients of the Town & Gown Award include Bill Howard (2013), Tom Carper (2012), Mick Wisslead (2011), Lin Stults (2010), Jerry Cremer (2009), John Maguire (2008) and Charles Gilbert (2007).