Alumni
2015 Honorary Alumni Award
Garry Johnson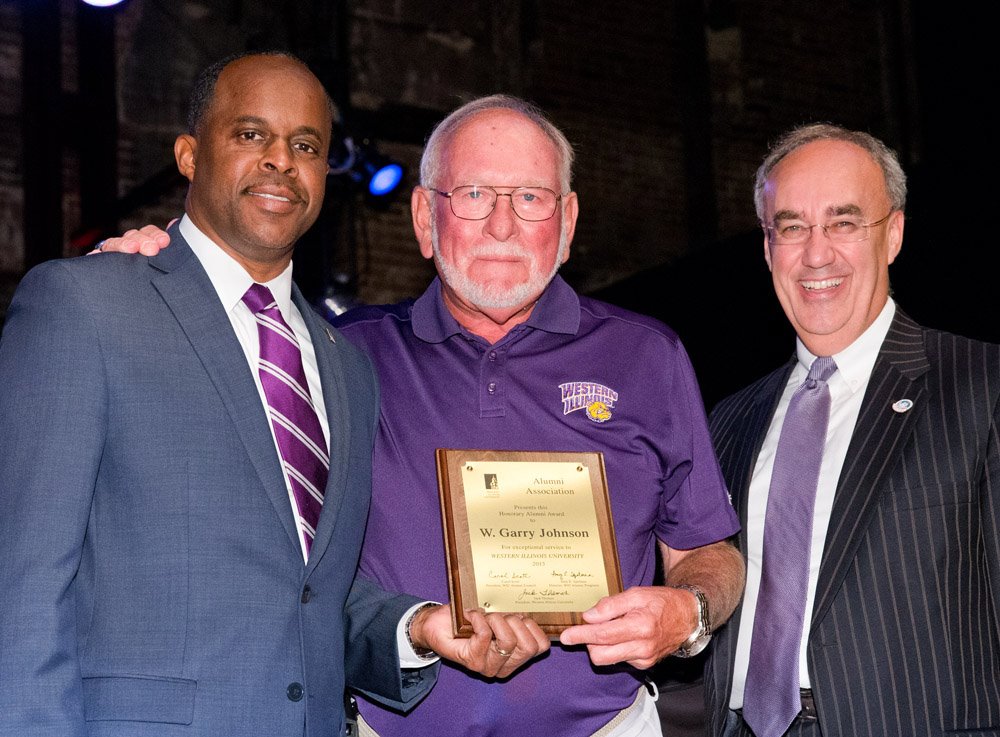 Western Illinois University presented the 2015 Honorary Alumni Award to Garry Johnson, WIU vice president emeritus for student services, during the annual Town & Gown celebration Sept. 24, hosted by the WIU Alumni Association. 

The Honorary Alumni Award is presented to an individual who is not a WIU graduate, but who has provided exceptional service to the WIU community. 

"Although he is retired now, Garry continues to be a part of our community, and supports Western Illinois University," said Amy Spelman, director of Alumni Relations. "He devoted his career to making Western a better place, and his loyalty to WIU is the definition of this award. Garry served as vice president for 13 years, and as his nominators stated he 'put Western Illinois University on the map in the world of higher education. There has been no bigger cheerleader for Western than Garry Johnson.' He has truly been a visionary." 

Johnson served as vice president of student services from 1998 until his retirement June 30, 2011. He served as the University's interim vice president for student services from 1997 to 1998, and prior to this appointment, he served as associate vice president for student services from January 1997 to September 1997, and as assistant vice president for student services-student life from 1983 to 1996. Johnson joined Western's student services division in 1980 as the director of residence life. 

Under his leadership, numerous projects were completed, including the former Grote Hall was razed and a new Grote Hall was built; residence hall dining centers were renovated; a new dining center for Thompson and Higgins halls was constructed; several residence halls were renovated and Wetzel Hall was decommissioned. In addition, the University Union food court was developed along with a major renovation of the University Bookstore, and the new entrance to the Union was completed. During his tenure, the University Golf Course was expanded to 18 holes; GoWest Transit was developed and expanded; and the Women's Center and Disability Support Center were integrated into the Division of Student Services. The student side of Hanson Field was renovated and the new Multicultural Center was constructed, along with the Donald S. Spencer Campus Recreation Center and its most recent expansion. Numerous athletic facilities were enhanced, including the new women's basketball office complex and a major renovation of baseball's Alfred D. Boyer Stadium. During his time as vice president, WIU developed the Student Assistance and Parent Service Center and the new Veterans Resource Center in the Wright House. Numerous programs such as Convocation, First Night Fun and Camp Leatherneck were also developed during Johnson's tenure. 

Johnson received his doctorate and master's degrees from the University of Missouri-Columbia and his bachelor's degree from Southern Colorado State University. He has held regional, national and international offices in several professional associations, including serving as president of ACUHO-I (Association of College and University Housing Officers-International) and two terms as president of the Upper Midwest Region Association of College and University Housing Officers (UMR-ACUHO). Johnson is a member of the National Association of Student Personnel Administrators (NASPA) and the American College Personnel Association (ACPA). On the WIU campus, Johnson is a member of the WIU Athletic Club, and was a member of the Community-University Partnership Program (CUPP), Auxiliary Facilities Committee (chair), the Council on the Quality of Campus Life Committee (co-chair), and served on numerous campus committees throughout his tenure at Western. 

In the community, Johnson has served on the Board of Directors of the Macomb Downtown Development and Chamber of Commerce and is involved in the Rotary Club of Macomb, of which he is a past-president. Johnson currently serves on the Rotary District Ambassadorial Scholarship Committee. He has served on the Performing Arts Society Board, was a member of the Salvation Army Board of Directors and was co-chair of the 2003 United Way Campaign. 

Johnson received the ACUHO-I Parthenon Award (2009) and the ACPA Diamond Honoree Award (2008); and he was inducted into Phi Kappa Phi, Blue Key Honor Society and the National Residence Hall Honorary. He also received the Distinguished Service Award from the Upper Midwest Region Association of College and University Housing Officers, as well as the Great Lakes Association of College and University Housing Officers. 

This is the 20th year for the WIU Honorary Alumni Award presentation. Previous recipients were John Biernbaum (2014); Dan O'Neill (2013); Lisa Ward (2012); Al Goldfarb (2011); Gil Belles and Marion Blackinton (2010); Bob Anstine (2009); Jack Stites (2008); Bill Brattain (2007), Marilyn Johnson (2005); Donald Dexter (2004); Mark Martin (2003); Mel and Judy Kerr (2002); Charlene Callison (2001); Ed Holzwarth (2000); Donald S. Spencer (1999); Laura Kent Donahue (1998); Cathy Early (1997); Dick Miller (1995) and Dennis Iversen (1994).