Alumni
2017 Honorary Alumni Award
C. Don Weston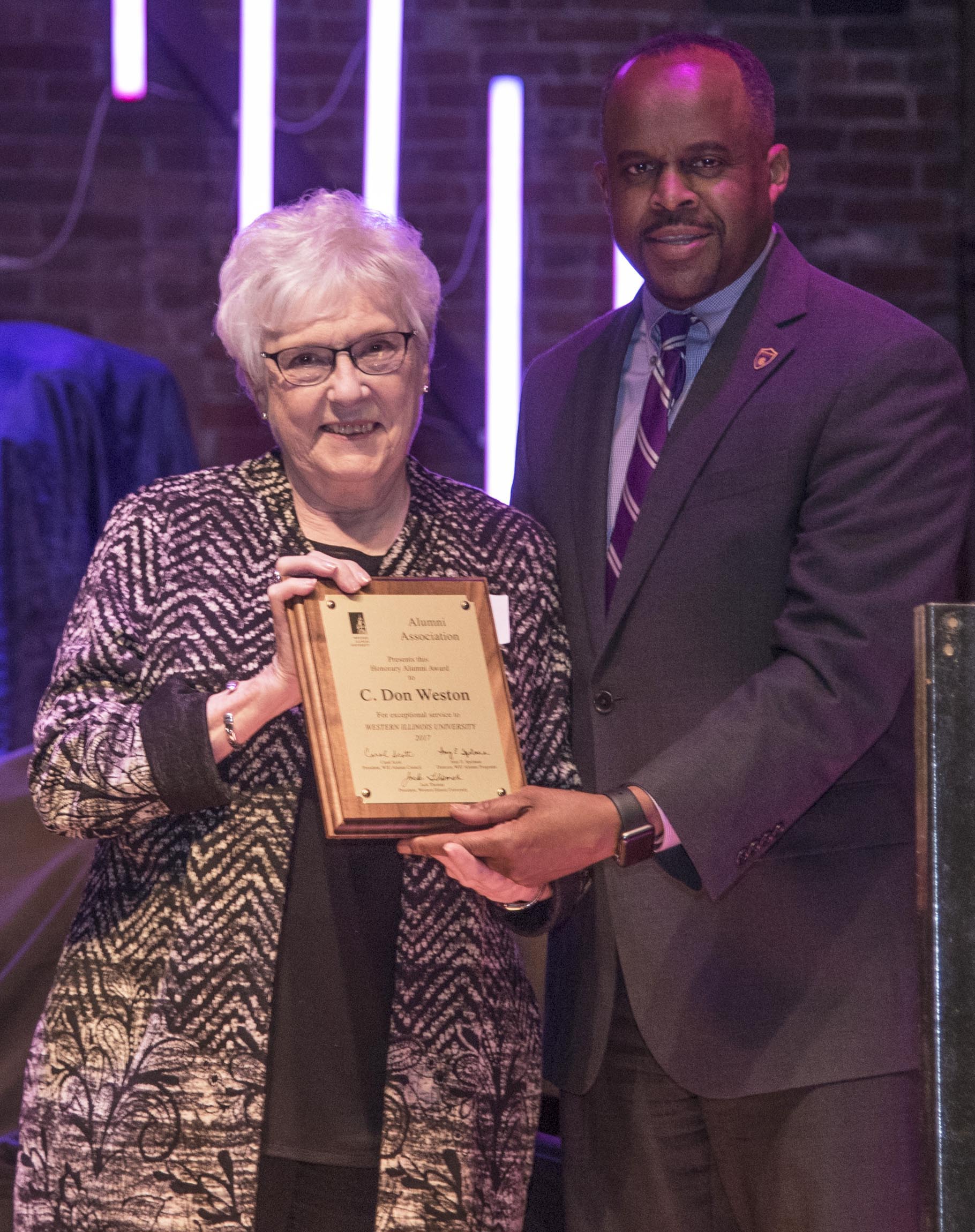 Western Illinois University presented the 2017 Honorary Alumni Award posthumously to C. Don Weston during the annual Town & Gown celebration Sept. 14, hosted by the WIU Alumni Association. Weston's wife, Marjorie, accepted on her husband's behalf.

Weston, 84, who passed away unexpectedly March 31, was a Macomb-area attorney, serving the region for more than 50 years.

The Honorary Alumni Award is presented to an individual who is not a WIU graduate, but who has provided exceptional service to the WIU community. 



Nominator John (J.B.) Biernbaum said, "C. Don was a season ticketholder for football and basketball for almost 50 years. He was a longtime Leatherneck Club member and he loved Western Illinois University sports. He could often be spotted on campus taking in a baseball or softball game, or just catching a football practice. C. Don knew the depth chart for WIU football so well I think he could have worked for Western's sports information department."

In addition to supporting all things athletic-related, he was a patron of Western's performing arts, and as Biernbaum noted, "bled purple." A graduate of the Western Lab School, Weston was a member of the Leatherneck Club, and the McDonough County and Illinois State bar associations. He was an active participant in Monday Downtown Athletic Club lunches and the Macomb Elks Club. Just prior to his passing, Weston had been asked to serve as the grand marshal of the 2017 Macomb Heritage Days Parade.

"Borrowing more of J.B.'s words, C. Don was an iconic presence in this town and at this University," said Amy Spelman, director of Alumni Relations. "He was always there -- at a game, banquet or event. C. Don knew the importance of the University in order for the community to survive. It is with great honor that we award the 2017 Town & Gown Award posthumously to C. Don Weston. We are all better people for knowing this Macomb legend."

This is the 22nd year for the WIU Honorary Alumni Award presentation. Previous recipients were Jeff Mabrey (2016); Garry Johnson (2015); John Biernbaum (2014); Dan O'Neill (2013); Lisa Ward (2012); Al Goldfarb (2011); Gil Belles and Marion Blackinton (2010); Bob Anstine (2009); Jack Stites (2008); Bill Brattain (2007), Marilyn Johnson (2005); Donald Dexter (2004); Mark Martin (2003); Mel and Judy Kerr (2002); Charlene Callison (2001); Ed Holzwarth (2000); Donald S. Spencer (1999); Laura Kent Donahue (1998); Cathy Early (1997); Dick Miller (1995) and Dennis Iversen (1994).