Alumni
2017 Town & Gown Award
Duke Oursler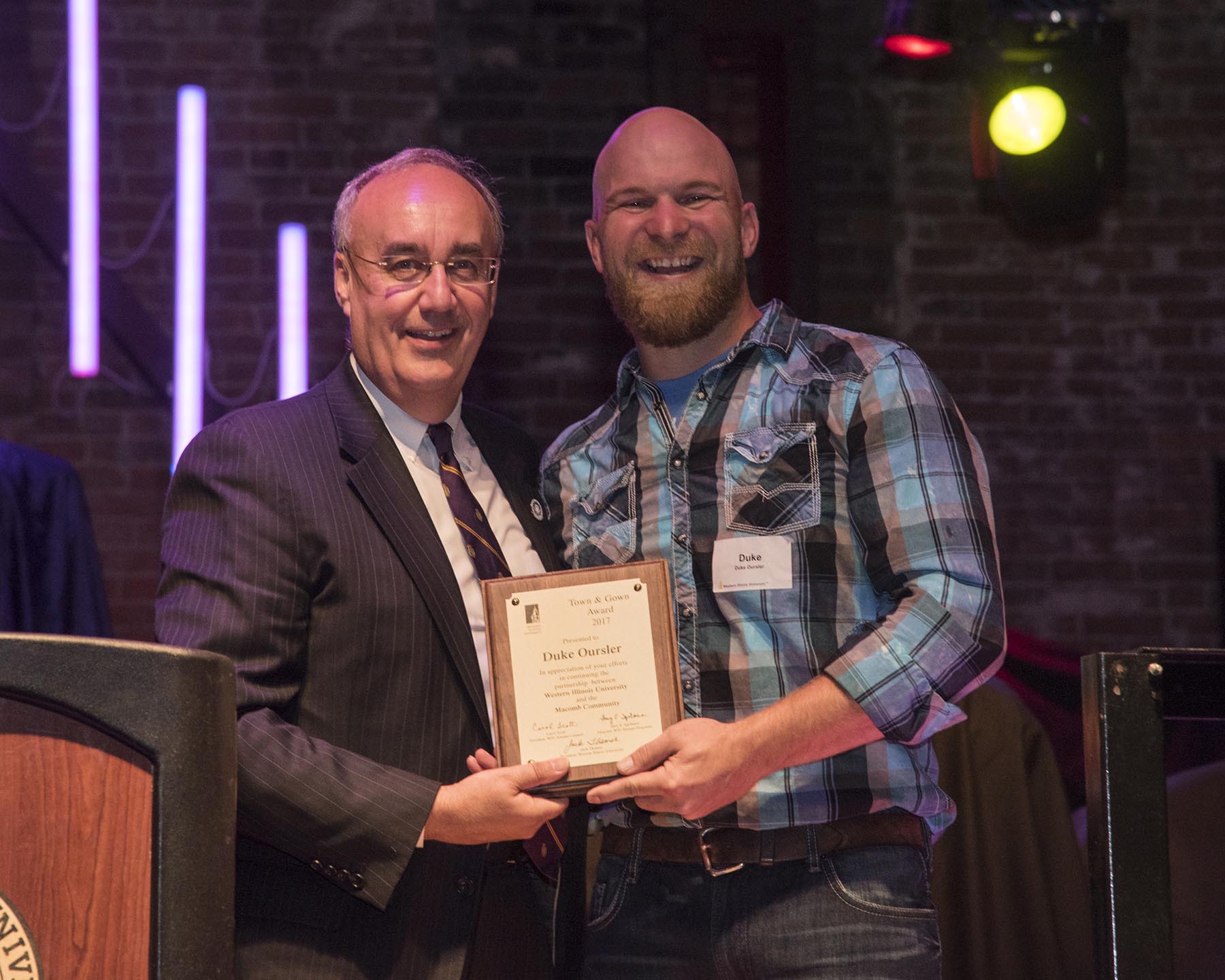 To recognize his many contributions for exceptional service over the years in continuing the partnership between Western Illinois University and the Macomb community, WIU Associate Professor of Art Duke Oursler received the 2017 Town & Gown Award from the WIU Alumni Association. The award was announced at the Sept. 14 Town & Gown Celebration.
Oursler is co-founder of WIU's Rocky on Parade public art project, and has contributed to numerous other public art projects within the community, including the design and fabrication of the American Class Sculpture for the Rotary Club's West Jackson Street green space and as the adviser and co-founder of the Sculpting the Future of Downtown Macomb community art project. He designed and fabricated signage and artwork for the Hanson Field scoreboard, the WIU Admissions medallion and the Macomb High School entry sculpture. Oursler also recently designed and fabricated the Col. Ray "Rock" Hanson statue, which will be unveiled Sept. 29 at Hanson Field.
"Duke is the epitome of someone who makes a difference in this University and his community. Besides making the world a more beautiful place, one sculpture at a time, Duke supports the Alumni Association, athletics, the performing arts and so much more at Western and within the community," said Amy Spelman, director of Alumni Relations. "He is shining example of someone who is an active member of the Macomb and University communities and does so much to bring the two together."
In addition to his position as an associate professor of art at WIU, Oursler is a part of WIU's First Wednesday Art Program, a monthly program that is open free to the public, teaching such classes as sculpture, clay, wheel throwing and more. He also participates in WIU's campus sustainability program and its events, and has served on WIU President Jack Thomas' Faculty Roundtable.
Previous recipients of the Town & Gown Award include John Nelson (2016), Tom Claudon (2015), Todd Lester (2014), Bill Howard (2013), Tom Carper (2012), Mick Wisslead (2011), Lin Stults (2010), Jerry Cremer (2009), John Maguire (2008) and Charles Gilbert (2007).