Alumni
2018 Honorary Alumni Award
LaVern McEntire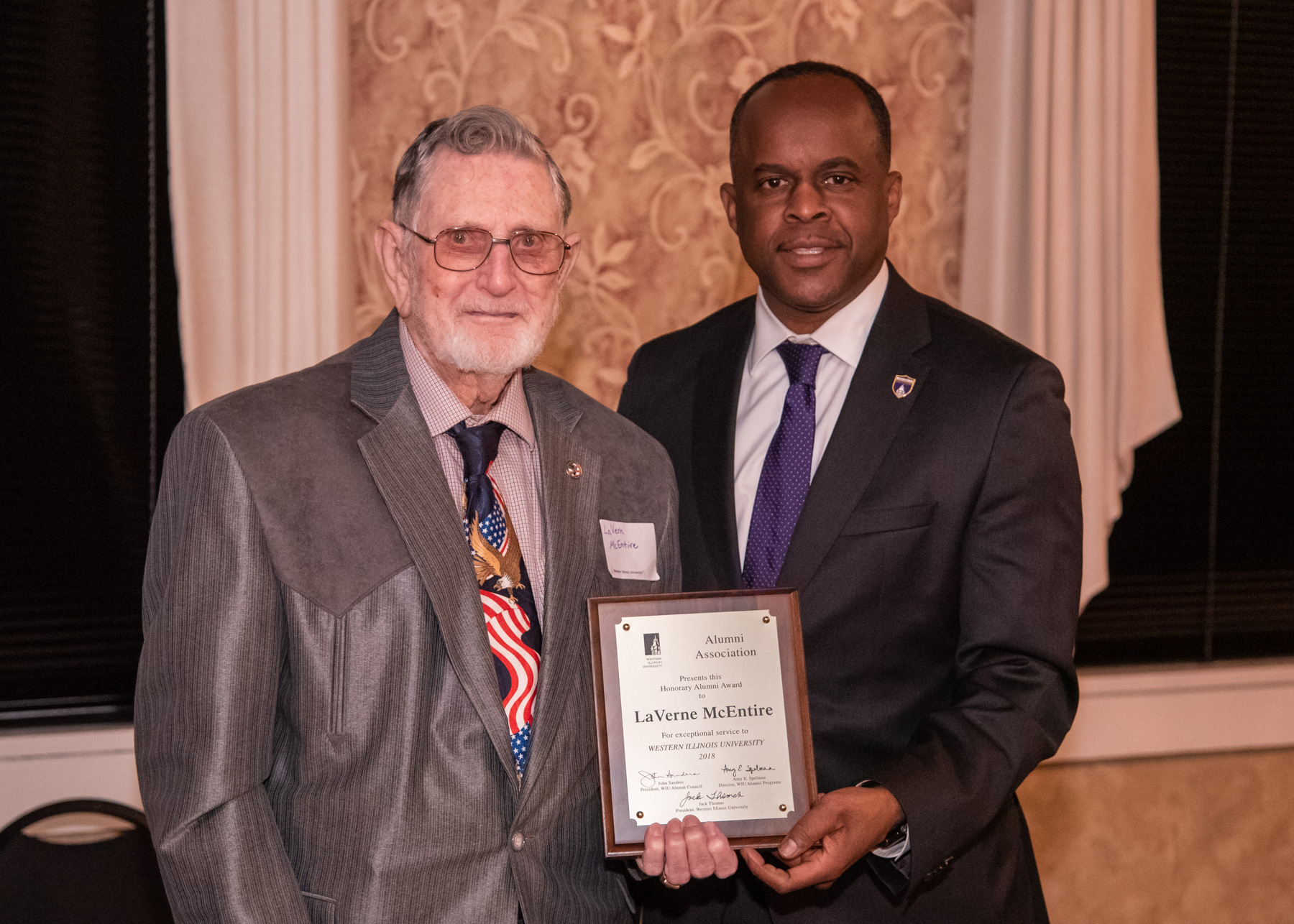 Western Illinois University presented the 2018 Honorary Alumni Award to LaVern McEntire during the annual Town & Gown celebration Nov. 15, hosted by the WIU Alumni Association.

The Honorary Alumni Award is presented to an individual who is not a WIU graduate, but who has provided exceptional service to the WIU community.

LaVern, who is from Industry, and his late wife, Nola, who hailed from Cameron, first established an endowed scholarship for dietetics as Nola received a bachelor's degree in home economics from WIU in 1950 and her master's in education in 1957. Nola worked for Sodexo, and the McEntires made Macomb their lifelong home.

As LaVern was a longtime lineman for McDonough Power Cooperative, the McEntires created a scholarship for children of McDonough Power employees, and before Nola passed away, the pair established another endowed scholarship in engineering, which benefits students at the WIU-Quad Cities campus. After her passing, LaVern established an endowed scholarship for the nursing program.

"Words cannot express the commitment that LaVern and Nola have had for Western over the years," said nominator Brad Bainter. "Their giving and generosity has known no bounds, and they have demonstrated their love for Nola's alma mater time and time again. Nola was an incredible woman, and LaVern is an equally incredible man who is keeping their legacy alive at Western Illinois University."

Now a resident of The Everly House in Macomb, LaVern has also established a scholarship for those working at The Elms who aspire to be nurses. In addition, LaVern was also a major benefactor toward the Veterans' Memorial in Industry.

"It is with great honor and pride that we award the 2018 Honorary Alumni Award to LaVern McEntire," said Amy Spelman, director of Alumni Relations. "He has always been a Leatherneck in our hearts."

This is the 22nd year for the WIU Honorary Alumni Award presentation. Previous recipients were C. Don Weston (posthumously, 2017); Jeff Mabrey (2016); Garry Johnson (2015); John Biernbaum (2014); Dan O'Neill (2013); Lisa Ward (2012); Al Goldfarb (2011); Gil Belles and Marion Blackinton (2010); Bob Anstine (2009); Jack Stites (2008); Bill Brattain (2007), Marilyn Johnson (2005); Donald Dexter (2004); Mark Martin (2003); Mel and Judy Kerr (2002); Charlene Callison (2001); Ed Holzwarth (2000); Donald S. Spencer (1999); Laura Kent Donahue (1998); Cathy Early (1997); Dick Miller (1995) and Dennis Iversen (1994).