Alumni
2018 Town & Gown Award
Joe Roselieb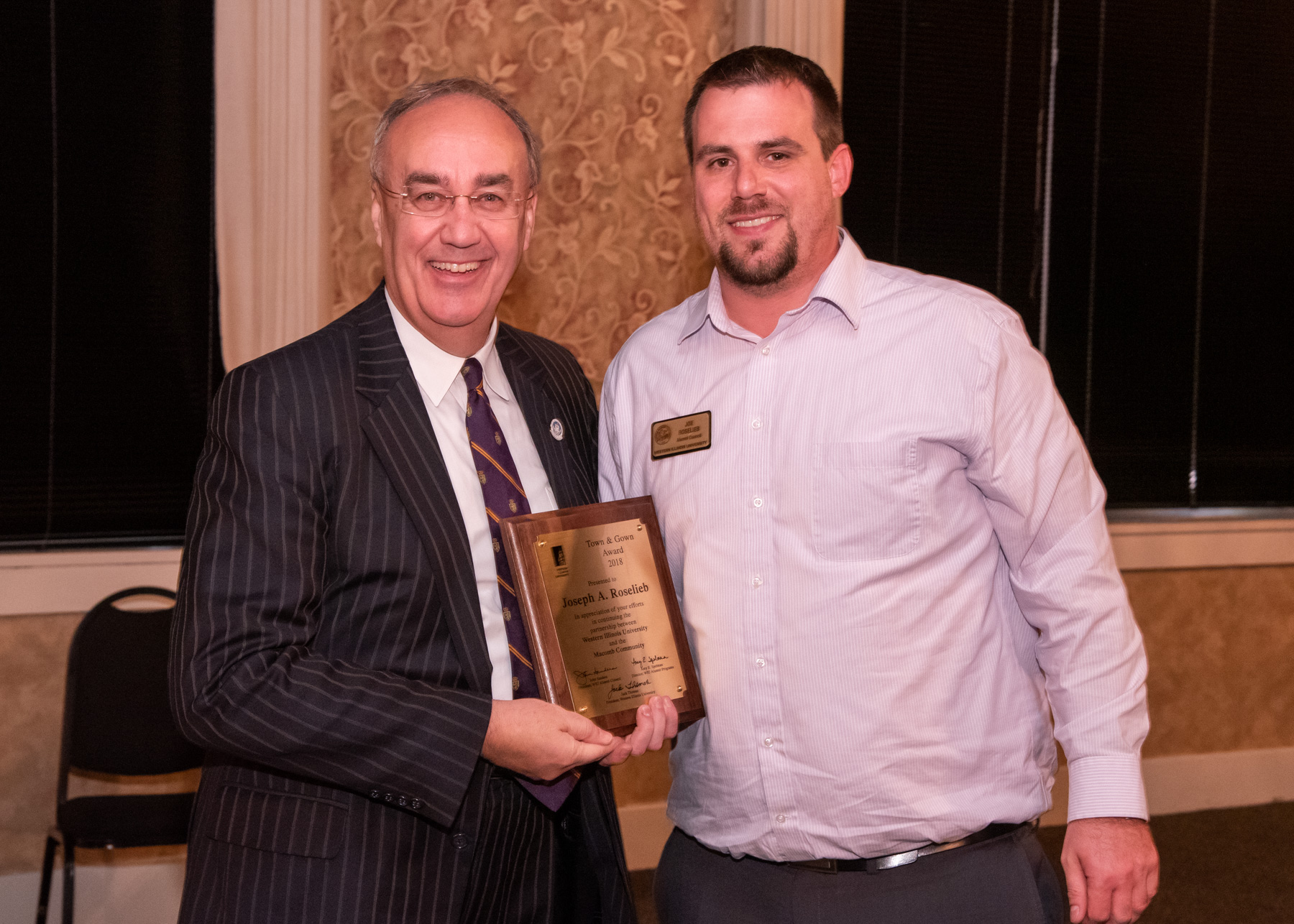 To recognize his "dog-gone pawsome" contributions to Western Illinois University and the community, WIU Alumnus Joe Roselieb, director of residential and auxiliary facilities and caretaker of WIU's mascots Rocky and Ray, received the 2018 Town & Gown Award from the WIU Alumni Association. The award was announced at the Nov. 15 Town & Gown Celebration.

Roselieb houses and trains Western's newest mascot, Ray, while continuing to provide a loving home for retired mascot, Rocky. Roselieb was selected as Rocky's person in May 2010, and for more than eight years, Roselieb has overseen every aspect of the mascots' care, from providing him with a great home, to teaching the "old" dog new tricks to making sure he's healthy to taking him to numerous WIU and community events each year. And Roselieb continues that commitment with Ray, who joined the WIU family in June.

And this is in addition to his full-time job as director of residential and auxiliary facilities at Western. One of Roselieb's nominators, John Biernbaum, noted, "Joe has been a tremendous member of the WIU and Macomb communities for the past 15 years, and in that time he has made a tremendous impact both locally and on campus, which is exactly what this award is about."

Over the years, Roselieb has been involved in numerous projects on campus, including the major renovation of Corbin-Olson complex, which is one of Western's oldest residence halls. Most recently, he was the point person for the demolition of Higgins Hall. Biernbaum noted that Roselieb "left no task or detail unfinished." Thousands returned to campus for reunions as part of the event, and Roselieb coordinated efforts both on campus and in the community to accommodate the influx of visitors. In addition, Roselieb recently stepped up to serve as the athletics facilities liaison, and he also serves as a member of the WIU Alumni Council, the Council of Administrative Personnel, several housing organizations, Macomb Crimestoppers and the Purple & Gold Auction Committee, among many other committees and organizations.

"No one works harder than Joe Roselieb," said Amy Spelman, director of Alumni Relations. His work at Western has made a significant impact on our students, our staff and in turn, Macomb. His work with Rocky and Ray as points of pride for our University truly unites WIU and our community. "Often on his own time, Joe will attend events on campus and in the community because he knows it's all about the dog and that people love seeing our mascot. It's important to add: he serves as the mascot program coordinator for no additional compensation. That is how much he believes in the program and in Western Illinois University. Joe is a true team player who's all in for Macomb and Western."

Previous recipients of the Town & Gown Award include Duke Oursler (2017); John Nelson (2016), Tom Claudon (2015), Todd Lester (2014), Bill Howard (2013), Tom Carper (2012), Mick Wisslead (2011), Lin Stults (2010), Jerry Cremer (2009), John Maguire (2008) and Charles Gilbert (2007).