Alumni
2019 Town & Gown Award
Stan Clayton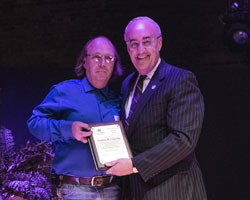 To recognize his contributions to Western Illinois University and the community, Stan Clayton, received the 2019 Town & Gown Award from the WIU Alumni Association. The award was announced at the Sept. 26 Town & Gown Celebration.
Clayton started at Western in October 1991 as an electronics technician in the University Union, where he was responsible for sound equipment and television repair for the Union, sound for Leatherneck home football games and cable television maintenance in the residence halls. He was reclassified as an electronics technician I in January 1998. Clayton joined University Television (UTV) in August 2001 as a broadcasting engineer. In addition to his duties in UTV, Clayton has assisted in the maintenance of the campus' carillon, and he also helps set up sound systems for University events, including graduation, holiday events and more.

Clayton's nominator, Joe Roselieb, noted, "Stan is a remarkable human being and one of the things I admire most about him is his loyalty to WIU. During some difficult times at Western, Stan was affected. But it was during this time that his character truly shined through. He didn't complain or blame. Instead, he remained an advocate for WIU, remained positive and still provided guidance.

"Stan's generosity and character has been described as not being in it for glory or recognition, but because he loves what he does and enjoys helping people," Roselieb added. "We often think of these types of awards going to someone who may be in the spotlight, but for Stan, it's the opposite. He's the person behind the scenes making sure things work and work well."

Clayton is a familiar face around Macomb as he as organized and managed the sound for numerous community events for more than 30 years, including Heritage Days and Fourth of July, and for summer festivals in neighboring communities, as well as for the Rams Training Camp. He extends his service and expertise to the community, including running the sound for Maple Avenue Christian Church. Clayton has also served as a local television and electronics repair person for many years.

"Stan is an example of someone who gives back to his community and truly believes in public service," said Amy Spelman, director of Alumni Relations. "As his nominator said, Stan's character is beyond compare. He has a positive attitude, is always willing to help. Stan truly does bleed purple and gold (and orange and black) and he has made a significant impact at our University and in our community."

Previous recipients of the Town & Gown Award include Joe Roselieb (2018), Duke Oursler (2017); John Nelson (2016), Tom Claudon (2015), Todd Lester (2014), Bill Howard (2013), Tom Carper (2012), Mick Wisslead (2011), Lin Stults (2010), Jerry Cremer (2009), John Maguire (2008) and Charles Gilbert (2007).