Alumni
2021 Town & Gown Award
Jeremy Robinett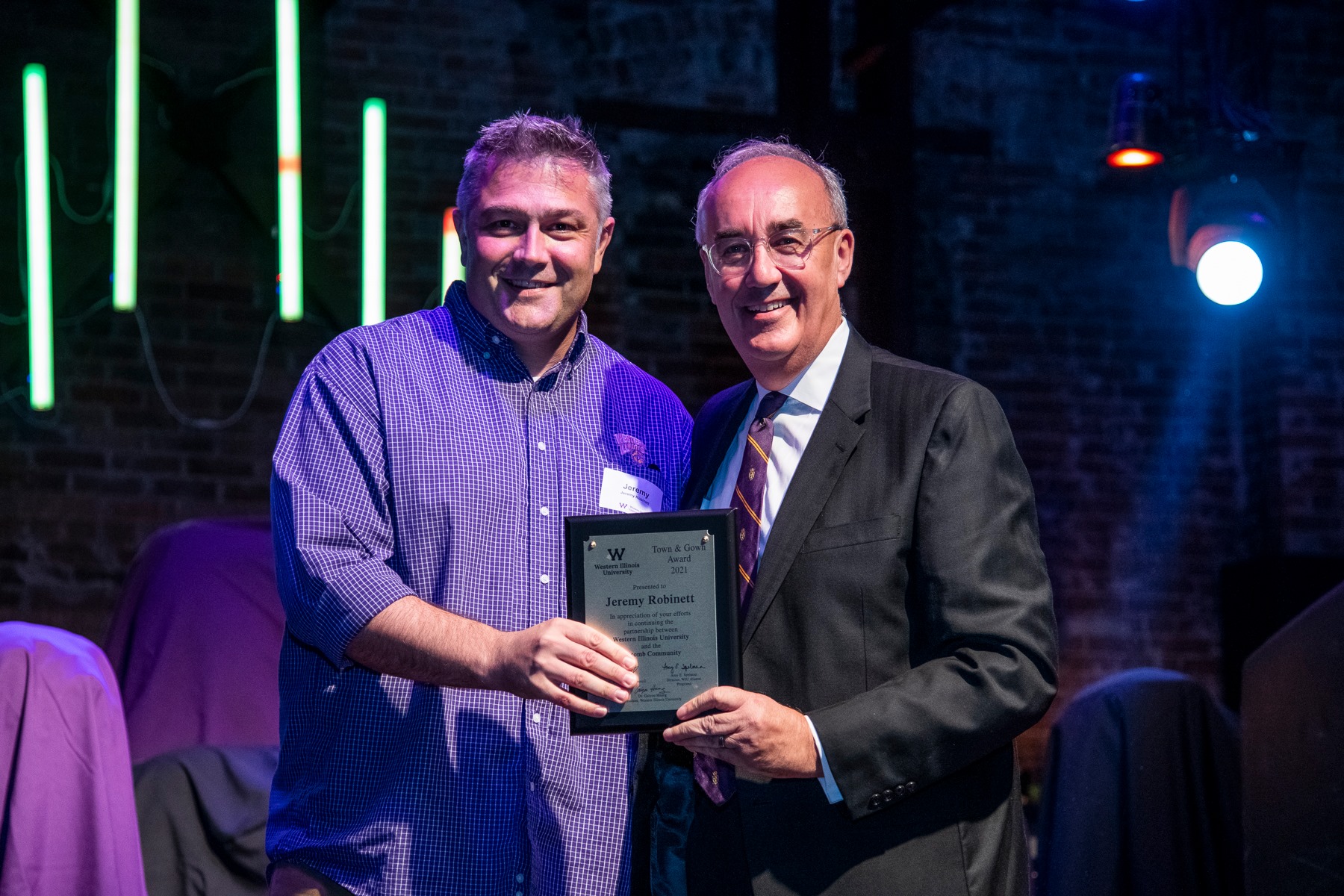 Robinett joined the RPTA faculty as an instructor in 2014. He was promoted to associate professor in 2021. In addition to his teaching duties, Robinett is the advisor for the department's graduate program and event planning and management minor, and is an active community volunteer. His nominator, WIU Art Professor Bill Howard, said, "In addition to performing his job as a professor at an exemplary level, Jeremy demonstrates an extraordinary commitment to the Macomb community and Western Illinois University community.

"Jeremy takes it upon himself to become involved with every aspect of the community including, but not limited to, director of Foos for Families, Moon over Macomb Steering Committee, Youth and Family Solutions and Special Olympics. He is a wonderful ambassador for the University, often assisting faculty, students and staff become entrenched and involved with community projects and functions," Howard added. "There is not a function that we attend that Jeremy has not been a part of. If he did not exist here in Macomb, we would try to invent him. Jeremy is the kind of person who gives to give. He takes time out of his busy schedule to meet and discuss any and all ideas with unsolicited vigor."

Fondly known as the "go to" for most things at the University, Howard added that Robinett often will say 'yes' to volunteering, chairing and facilitating any project or idea that will benefit the Macomb community.

"He is helpful, caring, resourceful, and happy to offer service no matter the task. Over the past four years I have known Jeremy to be a fantastic teammate and neighbor, always cheerful and exceptional in everything he does," Howard said. "He is a true champion for Macomb, with a tireless commitment for a better experience for citizens and visitors."

Within the community, Robinett is a member of the Macomb Rotary and has been involved with the Macomb Park District, the Macomb Community Mural Project and the ForMacomb project. One can frequently find Robinett helping put up the Flags of Love in Chandler Park during special occasions and taking part in numerous community events throughout the year.

"Jeremy makes a difference every day and exemplifies WIU's core value of social responsibility. He not only talks the talk, he walks the walk, positively impacting our University and our community every step of the way," said Amy Spelman, director of Alumni Relations. "As Jeremy's nominator said, he is a tireless, enthusiastic and positive member of our Macomb and WIU communities, and for that, we are so grateful."

Previous recipients of the Town & Gown Award include Stan Clayton (2019), Joe Roselieb (2018), Duke Oursler (2017); John Nelson (2016), Tom Claudon (2015), Todd Lester (2014), Bill Howard (2013), Tom Carper (2012), Mick Wisslead (2011), Lin Stults (2010), Jerry Cremer (2009), John Maguire (2008) and Charles Gilbert (2007).