Department of Psychology

Clinical/Community Mental Health Option (C/CMH)
About
Mission
The mission of the Clinical/Community Mental Health program is to provide students with that knowledge and those intellectual and professional skills that will enable them to provide quality mental health services in a variety of treatment settings and to continue to develop professionally.
Philosophy
The program has a strong commitment to training students as psychologists. This means that the curriculum is designed to provide students with a thorough grounding in basic psychological knowledge and methodology as well as with strong skills in the application of this knowledge. The therapeutic training offered in the program is eclectic in nature, but rooted in a strong belief in the importance of understanding the subjective experience of the client as a part of the treatment process. Students are exposed to a variety of treatment theories, supervised by clinical faculty with a diversity of orientations, and encouraged to develop their own approach to clinical work. The program takes the position that acquisition of a sound understanding of basic psychological and psychotherapeutic principles and mastery of fundamental skills, rather than specialization in particular approaches or with specific populations, is the best foundation for good professional practice and continued professional development.
History
The masters program in Clinical/Community Mental Health was organized in the Department of Psychology at Western Illinois University in the fall of 1972. This was a period of rapid expansion in the network of community based mental health agencies, an expansion that was spurred by the availability of federal funds to support the staffing of such agencies.
The program was developed to meet a need for trained practitioners to provide services in this new and rapidly expanding delivery system. The result was a curriculum that was designed to provide a strong basic training in psychology and that would also provide training in those skills that were directly relevant to the practice of community mental health. When the program instituted a revision in the curriculum in order to fulfill the standards that were set in 1994 by the Council of Applied Masters Programs in Psychology (CAMPP), agencies were surveyed regarding the types of preparatory experiences they deemed most valuable for prospective employees and this information was used to guide the curricular development. The curriculum was revised in 2008 to meet educational requirements for Illinois licensure (i.e., LPC, LCPC). The Clinical/ Community Mental Health program is accredited by the Masters in Psychology and Counseling Accreditation Council (MPCAC) for the period of August 10, 2017 to Augst 30, 2027. 
The C/CMH Program is celebrating 50 Years!
Join us for a weekend celebration April 21st-22nd, 2023
Fast Facts
The C/CMH program prepares students for responsibilities as professional mental health clinicians Students receive actual clinical experience from the beginning of the program, through participation in our community Psychology Clinic
The C/CMH program has been approved as meeting educational requirements for Illinois LPC/LCPC licensure The program includes two on-campus years of theoretical and applied coursework, followed by a 9-12 month approved internship that the student selects
Graduate assistantships are available within the department for first-year students and across campus for second-year students. Assistantships provide a monthly stipend and tuition waiver
Class sizes remain small throughout the program
The program has been in existence since 1972 and has graduated over 200 students
Application and Enrollment

| | | |
| --- | --- | --- |
|   | Fall 2021 | Fall 2022 |
| Applications Received | 36 | 49 |
| Applicants Offered Admission | 16 | 7 |
| Applicants Accepting Admission | 6 | 6 |
| Enrollment | 16 | 16 |
Program Statistics
First year retention rate for 2022: 100%
Number graduating in May 2022: 4
Percentage of cohort graduating in May 2022: 80%
Percent of students who enrolled in the program Fall 2017 who graduated from the program 2022: 80%
Percentage of graduates 2018-2020 who became fully licensed: 80% of those reported
Number of full-time graduate faculty: 3
Number of part-time graduate faculty: 0
Number of adjunct graduate faculty: 1
Percentage of courses taught by adjunct graduate faculty: 12%
Percentage of courses taught by full-time graduate faculty: 88%
Gender of graduate faculty: 3 females; 1 male
Race of graduate faculty: 4 Caucasian
Testimonials
Alumni
"The Clinical/Community Mental Health Master of Science program not only instills the values, ethics, skills, and knowledge necessary to excel in the mental health field, it also promotes self-knowledge and personal growth. This program teaches and encourages a person to think as an individual and not just follow the crowd. It gives one the opportunity to learn psychotherapy by doing psychotherapy with actual clients. This is but one of the many unique qualities that encompass this wonderful program."
~ Blake Gilbert, MS, 2014
"The C/CMH graduate program at WIU provided me with the knowledge to navigate a multitude of different types of field work, as well as invaluable practical experience that I have called upon many times to guide my decision making in difficult situations. The combination of the small class sizes, rigorous course work, and the available opportunity to have guided practice before graduation put me well above my peers from other programs in my job search. Additionally, the large amount of one-on-one instructional time allowed me to gain as much as possible from the experienced faculty. I think, often, that I am so fortunate to have been a part of such a wonderful program that has resulted in success in my endeavors."
~ Emily Wilber, MS, 2010
Current Students
"I chose the Western Illinois University Clinical/ Community Mental Health Graduate Program because of the on-site clinic and direct hands on experience with clients during the first semester. During my second year of the program, I have the opportunity to have a caseload of clients with direct supervision. The clinic allows me to obtain a wide variety of field experience and clinical knowledge throughout my entire education in the program. The faculty are extremely knowledgeable and truly believe in the success of their students. I enjoy the small class size environment, especially because this allows faculty to invest in us and mentor us. This program provides me with the opportunity to learn and acquire skills needed for this career field. Our cohort is quite diverse which brings different perspectives to help support each other with our strengths and weaknesses. I am so happy I chose the CCMH program at Western Illinois University."
~ Caroline Huff, MS, 2022
"I wasn't sure at first if the Western was the right fit for me. I had reservations about the small cohort size. I took a leap of faith, and I can earnestly say it was the best academic decision I have ever made. The small cohort sizes turned out to be a substantial benefit. With fewer students, the faculty are able to devote significantly more support to us. Our classes are able to foster discussion and integration of material beyond mere lecturing, and the professors make time for additional guidance. I can tell you, they will bend over backwards to provide their students with the experiences and education they want. My experiences with the staff have empowered me, and they have worked with me to learn additional skills beyond our program requirements to help me grow as a clinician. One of the other aspects I love about this program is that we get hands-on experience every semester from the get-go. Where other programs may offer one practicum before letting you go for internship, we get a practicum every semester as we build our clinical skills. As a second year, I am now undertaking my very own small caseload of clients. This opportunity makes us very competitive choices for internship sites as few Masters programs offer this level of clinical practice. Our on-site clinic is also open to students and the community alike, so our clients come from a diverse range of ages, demographics, and concerns. I have never felt school pride before I came here, but I found a sincere home here in WIU's Clinical/Community Mental Health program. I couldn't imagine being as happy anywhere else. "
~ Tara Valentine, MS, 2021
Careers
The curriculum of the Clinical/Community Mental Health program is specifically tailored to prepare students to enter professional work in outpatient mental health settings, and graduates have had excellent success in obtaining jobs. Of all the graduates of the program since 1973, 91% obtained their first jobs as generalist therapists in treatment centers, while 8% have pursued doctoral studies.
Surveys of our graduates have revealed that approximately 93% of our graduates are employed full-time in clinical services settings appropriate to their training, assuming either direct service positions or administrative positions. Settings our graduates work in include: Community mental health centers; hospitals/medical practices; juvenile and adult correctional facilities; residential treatment facilities; two- and four-year colleges; K-12 schools; group practices; independent practices; crisis/domestic violence treatment settings; and governmental social service agencies.
Employment Settings
C/CMH Graduates (past 10 years)
Community Mental Health Center: 24%
Hospital/Medical Center: 14%
Correctional Facility: 14%
College/University: 13%
Residential Treatment Facility: 7%
Group Practice: 7%
Rape Crisis/Domestic Violence Treatment Center: 6%
Substance Abuse Treatment Facility: 3%
International Research Center: 3%
Other Non-profit Treatment Center: 3%
Other: 6%
For more information about licensing across states: http://wiu.edu/provost/docs/ProfessionalLicensureDisclosureReport.pdf . Please check with C/CMH program faculty about current licensing requirements in Illinois.
Alphons J. Richert Scholarship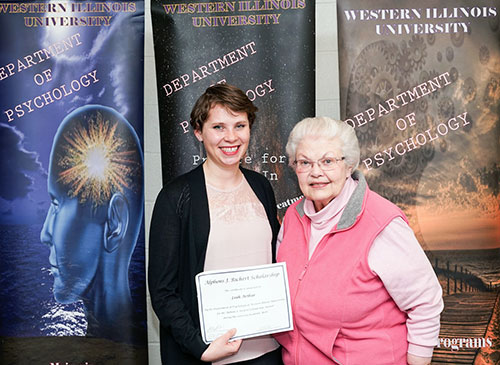 The Alphons J. Richert Scholarship in Psychology Clinical/Community Mental Health was established in his memory by his wife, Ruth. Richert came to Western in the fall of 1972 as an Assistant Professor of Psychology; was promoted to Associate Professor in 1979 and to Professor in 1986. In addition to his teaching and research duties, Richert provided clinical services for student and community clients. He became Director of the Psychology Clinic and Coordinator of the Psychology Master's Program in Clinical Community Psychology in 1975. He became a licensed psychologist in the State of Illinois in 1979.
Students enrolled full time in the C/CMH program are eligible to apply for the Al Richert Scholarship. Typically, one to two students in the second year of the program have been awarded the scholarship.
C/CMH Contacts and Faculty
---
---
---