Department of Psychology
Psychology Alumni Testimonials
Karston Cole - Behavioral Specialist at the Illinois Department of Human Services Treatment and Detention Facility in Rushville, IL
M.S. Psychology and Clinical/Community Mental Health, 2023; B.S. Psychology, 2020
"I am fortunate and grateful to begin my career with the wealth of theoretical knowledge and practical experience provided to me at WIU, especially within the CCMH program," said Cole. "I would not have the opportunities that I do, or the ability to successfully engage them, if it were not for capable professors who were invested in both my professional and personal growth. I am proud to build on the legacy that I watched my mother create, and I look forward to developing a successful career in my own right."
Cole's mother, Kate (Pietscher) Cole is a two-time graduate of the WIU Psychology department. View the news release to read the full story.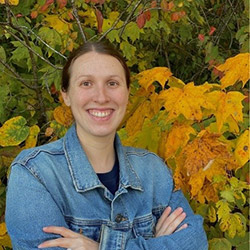 Kayla D. Lacy, MHP - Recovery Specialist at Rosecrance & Proud Leatherneck
B.S. Psychology, 2022
"As a Recovery Specialist at Rosecrance, I am primarily responsible for organizing group sessions designed around Dialectical Behavior Therapy (DBT). These sessions are intended to help enable clients to recognize their behavioral patterns, effectively communicate their emotional state, and learn coping skills. Additionally, I am involved in their mental health evaluation upon entry into the program, and subsequent record keeping of progress. At Rosecrance, I also help people transition back into their daily routine by helping them develop healthy habits such as recreational activities, and timely medicine intake."
"The faculty and advising staff at WIU actively worked with me and ensured I had the best college experience and access to academic resources. Their contributions had far-reaching effects on my career choice and decision to stay in the mental health industry. During the latter half of my Leatherneck Journey, while we experienced the COVID-19 pandemic, my professors worked hard at effectively bringing a wealth of knowledge to the online classrooms. They not only inspired me with their teaching but also with their empathy. Professor Keefe and Professor Kelly, particularly, helped shape my career goals and ambitions. I owe it to WIU for giving me the right platform to learn and get my first full-time job doing what I love the most, helping people going through stressful life events one day at a time."