Alumni
2013 Town & Gown Award
Bill Howard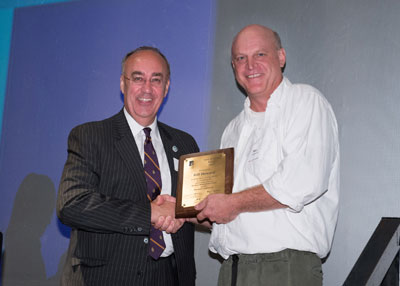 To recognize his contributions to Western Illinois University and the Macomb community, WIU Art Professor Bill Howard has been named the recipient of the 2013 Town & Gown Award from the WIU Alumni Association.
The Town & Gown Award, presented to an individual who has provided exceptional service to WIU and the community, was announced at the Oct. 3 Town & Gown celebration.
Inspired by successful projects like Cows on Parade in Chicago, Howard spearheaded the idea for "Rocky On Parade." From there, Howard formed a committee, which worked with the WIU Foundation to attract donors and artists to support the project. The 14 Rocky sculptures were debuted, along with their artists and sponsors, at the 2013 Town & Gown celebration. The bulldogs will be installed at the sponsors' location of choice following WIU's Homecoming.
"Bill's energy and enthusiasm for this public art project has brought University and community members even closer together," Spelman said. "The excitement surrounding this project, and the pride it will instill for years to come, along with his idea for a good portion of the proceeds to be directed back into scholarships for art students, truly reflect the meaning behind the Town & Gown Award."
In addition to the "Rocky on Parade" project, Howard was integral in a 2011 partnership between McDonough District Hospital and WIU that allows the artworks of students, faculty and selected works from the University art collection to be displayed in the front lobby of MDH. He recently worked with University Housing and Dining Services to establish The Gallery 810 in the connecting hallway between Corbin and Olson halls to showcase the works of art and English students.
Howard came to WIU in 2000, after serving as adjunct professor of printmaking at Colorado State University. He is a professor of printmaking (intaglio, lithography, relief and monotype). A native of Colorado Springs, Howard's artwork has been exhibited internationally, nationally and is included in a number of private and public collections. He is a member the Boston Printmakers, Los Angeles Printmaking Society, Pyramid Atlantic, The Print Center in Philadelphia and The International Print Center in New York.
Previous Town & Gown award recipients include:  Tom Carper (2012); Mick Wisslead (2011), Lin Stults (2010), Jerry Cremer (2009), John Maguire (2008) and Charles Gilbert (2007).