Veterans & Military Personnel
Meet Your Veteran Resource Center Staff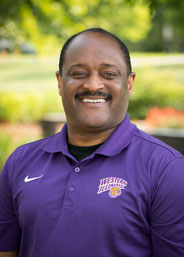 Director
As Director, working within the Student Services Department, in collaboration with other University departments and community organizations, Ron leads the Center in coordinating Western Illinois University services and resources in one centralized location to ensure all veterans and service members are afforded the greatest opportunities for success.
Ronald also continues to serve in the Reserves as a military chaplain, with over thirty years of military experience. As a Chaplain and military officer, he has traveled extensively throughout Europe, the Far East, Near East and Pacific with multiple deployments and tours in combat or direct support of those serving in combat. From his military training and experiences, he is a certified trainer in Combat Operation Stress Control, Family Wellness and Critical Incident Stress Debriefings.
Ron previously served for close to ten years as an Academic Advisor at Western Illinois University within the General Studies Degree Program within the School of Global Education and Outreach, previously known as the School of Distance Learning and Outreach. Formerly Ron also worked as a Resident Hall Advisor and Director at previous universities he attended and served as a Graduate Advisor in the Multicultural Center and Provost's Office for the First Year Experience and as the Peer Mentor Coordinator at Western.
Ron received his Bachelor of Arts in International Relations from the University of Southern California (1987), Master of Divinity in Urban Ministry from Trinity Evangelical Divinity School, Deerfield, Illinois (1996), and Master of Science from Western Illinois University in College Student Personnel (2009).
In higher education and military arenas, he has also taught or cotaught courses in Effective Communication, Career Development, Theology, African American Studies, Research, Conflict Resolution and Mediation, Urban Ministry, Intercultural and College Student Personnel courses.