University Union
At the Union Service Center students can:
Cash personal checks, payroll checks and money orders, for a small fee
Reserve a University Union Hotel room
And much more.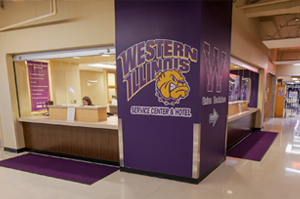 Daily Cashing Limits
Personal checks up to $100
Money Orders up to $300
Payroll checks up to $300
WIU refund checks up to $300 (subject to availability of money)
Check Cashing Policy
There is a $1 check cashing fee.
WIU refund checks are cashed free of charge.
Any student/faculty/staff cashing a check must present a valid WIU identification card that will be used with Validine to record the $1 check cashing fee.
Services
Process walk-in payments
Process departmental deposits
University Union Hours
Contact Info
University Union
1 University Circle
Macomb, IL 61455
Administrative Information
Phone: (309) 298-1986
Fax: (309) 298-2899
Scheduling & Event Services
Phone: (309) 298-2421
Fax: (309) 298-2575
Email: UnionSES@wiu.edu
Union Hotel
Phone: (309) 298-1941
Email: WIU-UnionHotel-ServiceCenter@wiu.edu