Accounting & Finance
Master of Business Administration (MBA) - Finance Concentration
MBA - Finance Concentration
The College of Business and Technology offers graduate work leading to the Master of Business Administration (MBA). MBA courses are offered by the Departments of Management and Marketing; Accounting and Finance; Economics and Decision Sciences; and the School of Computer Sciences. The WIU MBA is open to business graduates and those in liberal arts, engineering, mathematics, science, and other fields. Individual degree program requirement are based on previously completed coursework and may range between 33 and 54 semester hours.
In addition to three of the eighteen hours of MBA core course requirements being FIN 565 (Financial Management: Theory and Practice), students interested in finance as their area of concentration must select nine hours from the following graduate-level courses:
FIN 496G Futures Options and Options Markets
FIN 535 Real Estate Investment and Valuation
FIN 555 Investment Management
FIN 575 Advanced Portfolio Management
FIN 585 International Financial Management
FIN 595 Financial Derivatives
FIN 600 Independent Research
FIN 620 Finance Internship
Admission
Please view the Master of Business Administration (MBA) web page for degree requirements, admission detail, and more.
Integrated Baccalaureate and Master's Degree Program Bachelor in Finance/MBA
The Bachelor of Business in Finance/Master of Business Administration (MBA) integrated degree program provides an opportunity for outstanding undergraduate Finance majors to complete two degrees in just five years. The integrated degree allows a student to begin taking up to 6 semester house of MBA courses during the senior year and to count these courses toward both undergraduate and graduate degree requirements. Download the Brochure (pdf).
Alumni Job Titles
Within 5 Years of Graduation
Assistant Vice President - Lending
Certified Management Accountant
Certified Residential Appraiser
Compliance Associate
Credit Analyst
Financial Advisor
Leadership Management Trainee
Mortgage Banker
Registered Representative
5+ Years Past Graduation
Assistant VP and Senior Trust Officer
Business Application Developer
Business/Investment Analyst
Certified Financial Analyst
Certified Financial Planner
Certified General Appraiser
Financial/Investment Analyst
Portfolio Manager
President/CEO
Alumni Employers
Ameriprise Financial
Aon Hewitt Investment Consulting, Inc. (formerly Hewitt EnnisKnupp)
Archer Daniels Midland (ADM)
BMO Harris
Doosan Infracore International
Edward Jones
First Bankers Trust Company
Kovitz Investment Group, LLC
MAKE Corporation
MB Financial Bank
Met Life
Mid America National Bank
Midland States Bank
Modern Woodman Bank
Neader Financial Services
Northwestern Mutual
PNC Mortgage
Rally Appraisal
RR Donnelley Client Services
State Farm
USAC
Vantage Financial Partners
Wells Fargo Advisors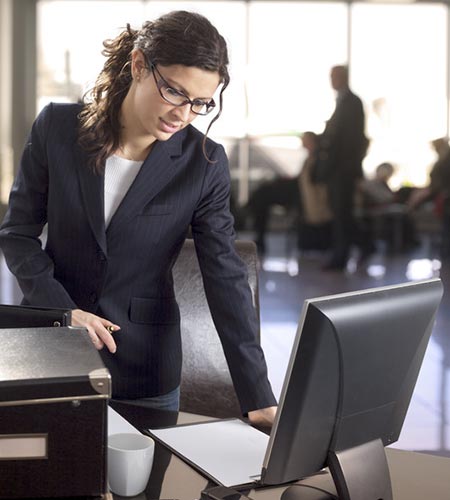 Please refer to the graduate catalog for detailed program information and course requirements.
Finance (FIN) Courses
FIN 496G Futures Options and Options Markets
The course presents a foundation in futures and options contracts examining the types of contracts, structure of the markets, pricing of contracts, and applications in risk management.
FIN 515 Finance for Managers
The development and study of financial concepts and practices employed by the financial manager in acquiring and administering capital. Topics include financial markets, time value of money, financial planning and analysis, working capital management, and long-term investment and financial decisions. Intended for graduate students with no previous background in finance.
FIN 535 Real Estate Investment and Valuation
A study of the real estate industry and markets. Concentration is on factors affecting the value of real estate and techniques for measuring value.
FIN 555 Investment Management
An introductory course in investment management designed to provide the conceptual basis for investment decision making. Topics will include how the security markets work, techniques of security analysis, valuation theory, and introduction to modern portfolio theory.
FIN 565 Financial Management: Theory and Practice
An advanced course in corporate financial management intended to provide a conceptual framework for analyzing the major types of decisions made by financial executives. Topics dealing with the acquisition and administration of corporate capital will be discussed in an applied setting stressing their relevance to practical problems in financial management. Case studies and team written reports are used to provide students with an opportunity to apply known concepts and principles to realistic situations.
FIN 575 Advanced Portfolio Management
This course allows students to manage an actual portfolio of money and stocks. Advanced fundamental analysis, corporate valuation, and portfolio management. Student teams make weekly presentations to buy/sell stocks that strategically fit within the portfolio of equities owned.
FIN 585 International Financial Management
An application of corporate finance and investment theory to the international arena. Special topics include the environment of international financial management, the management of foreign exchange risk, foreign investment analysis, and sources of international funds. Students will also be taught efficiency conditions of international markets, the international payment system, and international banking.
FIN 595 Financial Derivatives
An in-depth examination of financial derivatives including forward, future, and option contracts. Topics will include trading strategies based on fundamental analysis, pricing rules, valuation, and the swaps market.
FIN 600 Independent Research
Independent research and study of selected topics in finance.
FIN 620 Finance Internship
Integrates finance theories with application to actual business practice. Students are exposed to a variety of positions within the business firm during the semester.
College of Business & Technology (CBT)
Please view the Master of Business Administration (MBA) web page for degree requirements, admission detail, and more.
Macomb MBA Advising
Location:
1 University Circle, Stipes Hall 101
Macomb, IL 61455-1390
Phone: (309) 298-2442
Fax: (309) 298-1039
MBA Program Director & Advisor: William Polley
WJ-Polley@wiu.edu
Quad Cities MBA Advising
Location:
QC Riverfront 109
Moline, IL 61265
Phone: (309) 762-9481 Ext. 62789
Academic Advisor: Alex Wenger
AL-Wenger@wiu.edu