Civil Service Employees Council
Civil Service Employee of the Year 2003 - Vicky Woolam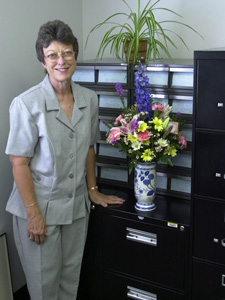 The Civil Service Employees Council (CSEC) at Western Illinois University and Sharp/Watts Copy Systems are pleased to announce Vicky Woolam of the Payroll Office has been selected as the 2003 Civil Service Employee of the Year.
Woolam was selected from a group of Employee of the Month recipients for 2003; she was the July Employee of the Month. As the 2003 Sharp/Watts Copy Systems Civil Service Employee of the Year, Woolam received a plaque, will have her name placed on a permanent plaque in the Human Resources office and received $500 in Macomb Chamber of Commerce gift certificates.
Woolam, a payroll specialist III, was cited for her dedication to her work, knowledge of her job and willingness to help in whatever way possible. Woolam was instrumental in getting the online time cards up and running, and she creates a positive image of the payroll office.