Civil Service Employees Council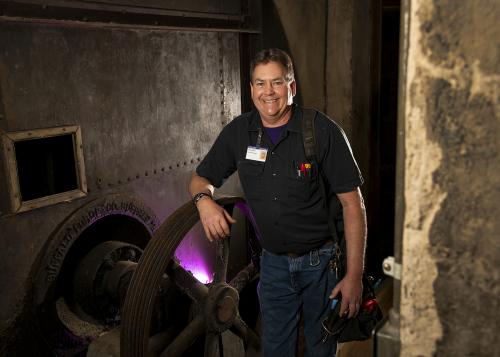 Civil Service 2019 Employee of the Year - Brad Payne
Western Illinois University Assistant Chief of Building Operations Engineer Brad Payne has been named the Al and Elaine Goldfarb Civil Service Employee of the Month for December and the 2019 Civil Service Employee of the year.
Payne was awarded an engraved clock and a $500 stipend from the WIU Foundation at last week's Civil Service Employee Council luncheon and a $100 stipend for his monthly award.
Payne began working at WIU in August 2005 as a utility and maintenance repairman, which was changed to steam and power plant II in 2014 and to building operator engineer in 2014. In 2015, he was promoted to his current position.
According to Payne's nominator, he constantly has a smile on his face while responding to calls for service in campus buildings.
"Brad is incredibly kind and caring when dealing with all University employees and takes the time to fix equipment issues and bring in replacement units to make sure employees aren't without air conditioning for longer than necessary," said the nominator. "Beyond his job in Facilities Management, Brad operates a haunted house with his family that has raised money and thousands of pounds of food for local food pantries. Through this haunted house, he allows WIU students to come in and work during the Halloween season to accumulate hours they need for Athletics or classroom volunteer requirements. Brad and his wife, Sara, and their children are the storybook example of a WIU family and going above and beyond for the school they love."