Civil Service Employees Council
Civil Service Employee of the Year 2006 - Abby Walker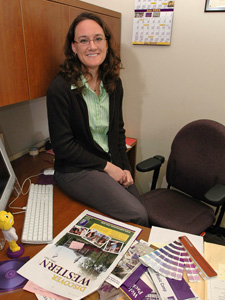 The Civil Service Employees Council (CSEC) at Western Illinois University and Sharp/Watts Copy Systems are pleased to announce Abby Walker, a graphic designer I in University Relations, has been selected as the 2006 Civil Service Employee of the Year.
Walker was selected from a group of Employee of the Month recipients for 2006; she was the July Employee of the Month. As the 2006 Sharp/Watts Copy Systems Civil Service Employee of the Year, Walker received a plaque, will have her name placed on a permanent plaque in the Human Resources office and received $500 in Macomb Chamber of Commerce gift certificates.
Walker was cited by her nominators for being "unflappable, personable and responsible. Her calm demeanor makes those who work with her know that the job is in capable hands and the end result will be outstanding. She accomplishes every task head-on and always with a smile. We are consistently impressed with her unwavering dedication and the way she goes above and beyond the call of duty in her work.
She began working for University Relations as an editorial assistant in July 2000, and her position was reallocated to graphic designer I in September 2003.