Civil Service Employees Council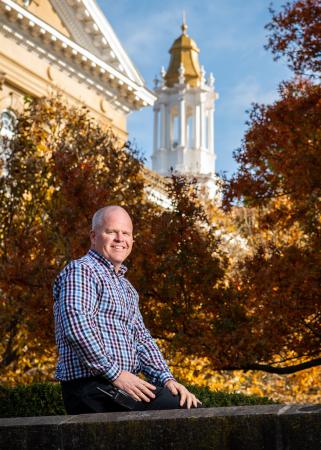 Civil Service 2018 Employee of the Year - Eric Reed
Western Illinois University Assistant Superintendent of Grounds in Landscape Maintenance Eric Reed has been named the 2018 Civil Service Employee of the Year.
Reed, who was named the Al and Elaine Goldfarb Civil Service Employee of the Month for November 2018, was awarded an engraved clock and a $500 stipend from the WIU Foundation during the Civil Service Employee Council luncheon Thursday.
Reed began working at WIU in June 2006 as a grounds gardener. In June 2011, he was promoted to grounds foreman, and in January 2013, he audited to his current position.
According to those who nominated him, Reed is extremely dedicated to his work.
"He is also very detail-oriented and committed to improving services of the landscape maintenance department," said the nominators. "He is dedicated to making the campus safe during the winter by keeping the walks as clear as possible. His job is very dependent upon the weather, but it does not affect his ability to provide great service to his staff and the WIU campus community."