Civil Service Employees Council
Civil Service Employee of the Year 2005 - Dallas Mowen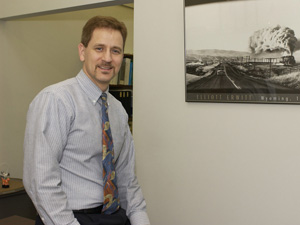 The Civil Service Employees Council (CSEC) at Western Illinois University and Sharp/Watts Copy Systems are pleased to announce Dallas Mowen, University Information Management Systems (UIMS) has been selected as the 2005 Civil Service Employee of the Year.
Mowen, an assistant manager in UIMS, was selected from a group of Employee of the Month recipients for 2005; he was the January Employee of the Month. As the 2005 Sharp/Watts Copy Systems Civil Service Employee of the Year, Mowen received a plaque, will have his name placed on a permanent plaque in the Human Resources office and received $500 in Macomb Chamber of Commerce gift certificates.
Mowen was cited for his ability to work through requests from a myriad of offices and campus organizations and provide them with timely and accurate information. Dallas is extremely helpful in answering questions and makes people feel at ease," his nominators added. He was also recognized for his ability to think of better and more efficient ways of providing UIMS services.