Civil Service Employees Council
Civil Service Employee of the Year 2011 - Marsha Grotts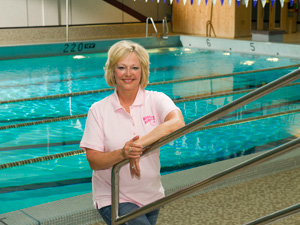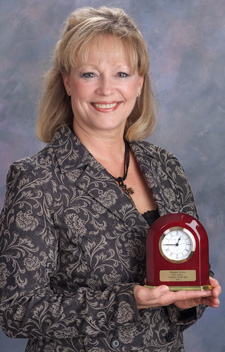 The Civil Service Employees Council (CSEC) at Western Illinois University has announced that building service worker Marsha Grotts has been chosen as the 2011 Civil Service Employee of the Year.
After being named Employee of the Month in May 2011, Grotts was one of 12 WIU employees eligible for the annual honor. For the distinction, Grotts was awarded an engraved clock and $500.
Grotts' nominator said she is motivated to do her job and always has a smile on her face when she comes in to the Spencer Student Recreation Center.
"She is very motivated about her job and is an outstanding representative for the Building Services Department," according to her nominator. "Martha has a work ethic that motivates her students employees. She not only supervises them, but works side-by-side with them and isn't afraid to do any job. Marsha takes ownership of the building by really caring about the appearance of the Rec Center. Her impact on this campus represents the best in educational values that are available at this University."
Grotts was initially hired at WIU as a Building Service Worker I – extra help employee on Jan. 20, 2000 and was then hired full-time in July 2000. After resigning in 2006, Grotts was rehired in November 2008, again as an extra help employee. On Dec. 1, 2008, she was hired at her current position.