Civil Service Employees Council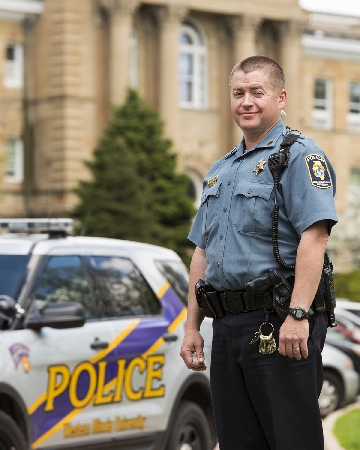 Civil Service 2016 Employee of the Year - Derek Watts
The Western Illinois University Civil Service Employees Council (CSEC) has named Office of Public Safety Police Sergeant Derek Watts the 2016 Civil Service Employee of the Year.
Watts, who was named the Al and Elaine Goldfarb Civil Service Employee of the Month in May 2016, was awarded an engraved clock and a $500 stipend from the WIU Foundation.
Watts was hired in November 1998 as a police officer and was promoted to police corporal in July 2006. He was promoted to his current position in July 2009.
Watts' nominator called him a "knowledgeable, professional and an excellent employee."
"He volunteers for many programs for different areas of the University, as well as participating in several campus events outside of work hours, including St. Baldricks, Polar Plunge and Crime Stoppers," said the nominator. "He goes above and beyond his job requirements to assist others within the campus community, and he does so with enthusiasm."