Civil Service Employees Council
Civil Service Employee of the Year 2009 - Teresa Little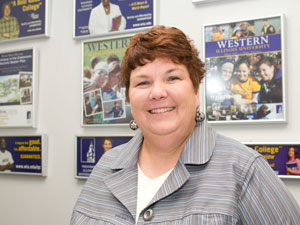 Teresa Little from University Marketing/Advancement & Public Services is the recipient of the 2009 CSEC Employee of the Year award. Teresa was the August recipient of the Employee of the Month award. She received a plaque honoring her and a $500 stipend gifted by Carol Watts of Macomb. Teresa received this award because she exemplifies the ideal staff professional in her attitude, disposition, level of competence, and personal style.
Teresa was hired on August 28, 2006 as a Chief Clerk for the Vice President for Advancement and Public Services. On November 21, 2007, she was reclassified to a Staff Clerk and she currently holds this position.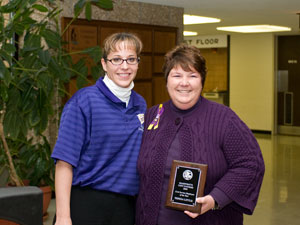 According to her many nominators:
Teresa wears many hats and is always going the "extra mile" in contributing to the success of the University Marketing office as well as the VPAPS office. Her position requires the ability to exercise discretion, initiative, and independent judgment in establishing priorities and completing assigned duties in an environment with frequent interruptions while also requiring motivation and public relations skills that are essential for the contact with members of the community, donors, advertising representatives, and campus personnel. Teresa is always on the lookout for new opportunities to put WIU at the forefront of the public eye. She is a very strong advocate for WIU and a very valued employee.