Civil Service Employees Council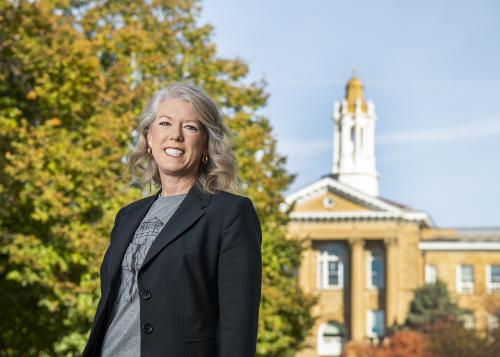 Civil Service 2020 Employee of the Year - Jessica Butcher
Western Illinois University Assistant Director of Residence Life Jessica Butcher has been named the Al and Elaine Goldfarb 2020 Civil Service Employee of the year.
Butcher was awarded an engraved clock and a $500 stipend from the WIU Foundation. She was also named the Employee of the Month for November.
Butcher started at WIU in July 1998 as a residence hall director in Auxiliary Facilities Systems. In July 2005, she was promoted to assistant director of Student Development and Orientation, and in July 2010, she was promoted to assistant to the vice president for student services. In December 2018, she transitioned to her current position. She has also taught University 100, through WIU's First Year Experience, since 2014.
According to Butcher's nominator, she is an "outstanding employee and colleague, who is always willing to accept new and exciting challenges."
"Jessica has been a leader in the organization of the COVID-19 quarantined and isolated students," said her nominator. "During the unfortunate incident on campus Sept. 15, Jessica was on hand all through the night, assisting students, driving them to the University Union, etc. We are very blessed to have her as an employee of Western Illinois University. As we get to the end of the first semester, I cannot think of anyone more deserving of this award than Jessica. She has done an exceptional job and continues to raise the bar. She is a shining example of what a Leatherneck should be."