Civil Service Employees Council
Civil Service Employee of the Year 2012 - Beth Oakley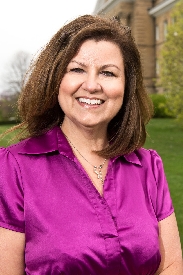 The Western Illinois University Civil Service Employees Council (CSEC) has named administrative aide Beth Oakley the 2012 Civil Service Employee of the Year.
Oakley, who was named the Al & Elaine Goldfarb Civil Service Employee of the Month in April 2012, was awarded an engraved clock and $500 from the WIU Foundation. She is an administrative aide in the WIU Vice President of Student Services office.
Oakley was hired at Western in April 1987 as a typing clerk III in the office of Student Residential Programs. She was later promoted to secretary III before being reclassified to secretary IV and staff secretary.
In December 1997, Oakley was reassigned to her current office, and in 2001 she was reclassified as an administrative secretary. She was assigned her current position in October 2006.
Oakley's nominators said their office would struggle in its daily operations without her.
"She has the ability to have an impact on every person in the department," the nominators said. "There is rarely a week that goes by that almost every director within the division doesn't either call or visit Beth for information or advice."