Civil Service Employees Council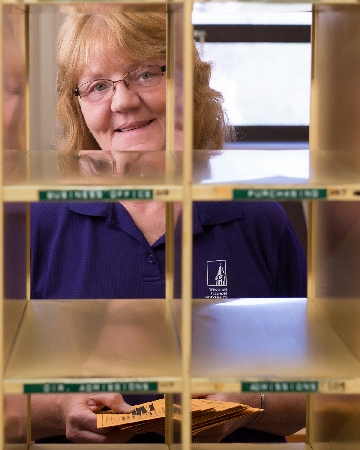 Civil Service 2014 Employee of the Year - Denise Sprinkle
The Western Illinois University Civil Service Employees Council (CSEC) has named Denise Sprinkle, a route driver for the Western Illinois University Office of University Printing & Mailing Center (UPMC), the 2014 Civil Service Employee of the Year.
Sprinkle, who was named the Al & Elaine Goldfarb Civil Service Employee of the Month in May 2014, was awarded an engraved clock and $500 from the WIU Foundation.
Sprinkle was hired in July 2006 as an extra help route driver for DPS and served in that role until December 2006. She was hired as a full-time route driver for DPS in March 2007 and she currently holds that position.
According to her nominators, Sprinkle does her job with enthusiasm and efficiency.
"She always has a professional and friendly attitude; her positive demeanor and friendliness have an impact on those she makes contact with daily," her nominators said. "She makes the mail drop something that the offices look forward to every day and we are better off for having her in our work life."